A first tour of the platform¶
Ryax was designed to be used on a daily basis by people with various IT skill levels. Its low-code interface enables you to deploy and run any Data Science project in a few clicks. For expert users, advanced features and operations are covered in other section of this guide.
Through this guide, we'll use the left menu panel a lot: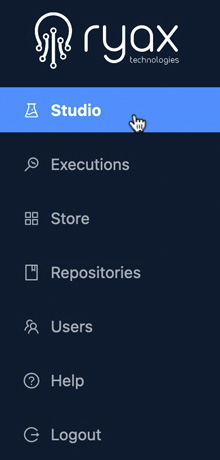 This panel can be collapsed to adapt to your screen and leave more room for focused editing in the main operational sections of Ryax.
| | |
| --- | --- |
| | Use the arrow at the bottom left to collapse/uncollapse the menu panel |
First of all, let's have a look at Ryax's main screens, navigating using the left menu: the Studio, the Executions center, the Modules pipeline & catalog, the Infrastructure monitoring board, the User Management center, and the Help menu.