Assembling new workflows¶
Now that you know how to operate an existing workflow, let's create your own! This section will focus on workflow assembly and configuration (all modules being already built and available in the Ryax store).
As an example, we will create a workflow called "Analyze Twitter data". This is a more advanced version of the workflow you handled in the previous section: this improved workflow will be able to automatically fetch real Tweets, analyze them and publish them to an external service.

Here is a step-by-step description of this workflow:
Trigger an execution every so often (defined by the user) with the "Emit Every" source module

Pull a user defined amount of Tweets and Tweet metadata off of the twitter API according to some query, organize them and store them.

Take the data from the Tweets and use an off-the-shelf DistilBERT model (fine-tuned for text classification) to evaluate the sentiment in those segments of text. Then organize this data and pass it along.

[Optional] Take the scored data and publish it all in a structured manner to a Google Sheet.
For more information about this workflow, please refer to its complete documentation.
To start with, let's create a new workflow from the Studio list page by clicking on "New workflow" at the top right of the screen:

For example, we'll name this new workflow "My own Twitter analysis". You can also enter a description if you wish (optional).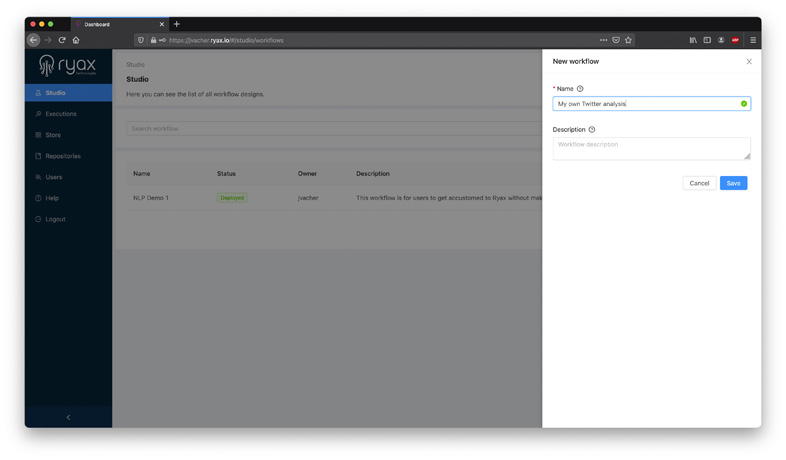 Click "Save", and the Studio Editor screen will automatically appear, you are now ready to start assembling your workflow!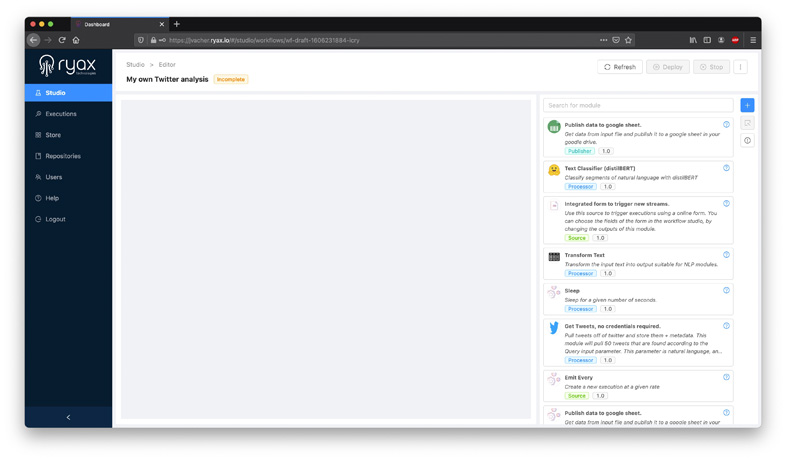 Note
To access your workflow later on, scroll or search the Studio list.
Deploying from the studio¶
As you learned from the previous sections and exercises, within Ryax a workflow has to be in the "deployed" state to run in production. Deployment is the phase where the workflow is built, packaged and loaded by Ryax on production infrastructures.
Before deploying a workflow, we'll have to make a quick sanity check to ensure it is ready to do so: does it display an "OK" status? If yes, then in most cases this check is all you will need to do, provided that you've also had a look at the "Warning" panel in the Editor and took care of fixing all potential warning messages.
Once in the Editor, you can click on the "Warning" panel (on the bar to the right) to open it: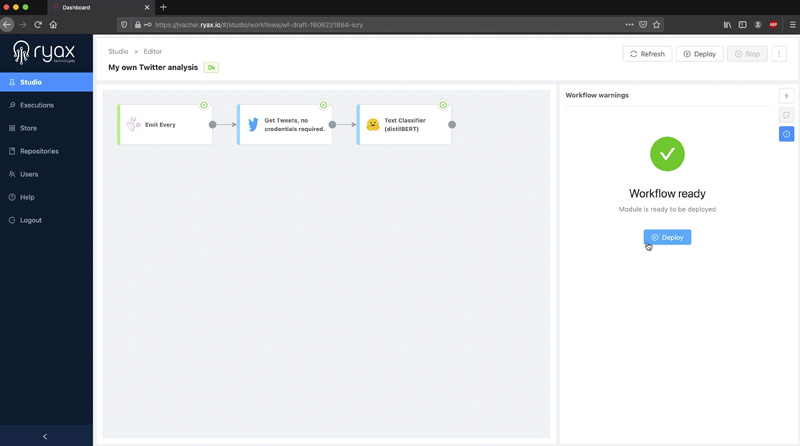 This panel displays any warning or errors Ryax has detected on your workflow. If the "Workflow ready" message displays, in accordance to the "OK" status of the workflow, then we're ready to proceed with the deployment.
You can now click any "Deploy" button, either from the Workflow list view or from the Studio Editor: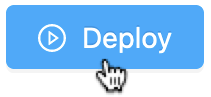 Upon deployment, your workflow will display a succession of statuses: "Creating", "Deploying", and finally "Deployed". It should take a few seconds, if the displayed workflow status does not change, please click the "Refresh" button at the top of the page to actualize.
As a reminder of workflow statuses (covered in the "Ryax tour" sections):
| | |
| --- | --- |
| | OK: workflow is properly assembled and configured, it is ready to be deployed. |
| | Incomplete: workflow is not ready to be deployed (configuration is incomplete, assembly is incorrect, etc). |
| | Creating: workflow deployment is initiated and the workflow is being instantiated in production. |
| | Deploying: workflow is being deployed. |
| | DeployError: workflow could not be deployed. Check module configuration for warnings or errors. |
| | Deployed: workflow is ready to receive inputs and generate executions. |
The "Deployed" status ensures that your workflow has been successfully deployed in production: congratulations!
Checking executions¶
Depending on how your workflow is built, the type of events leading to workflow triggering may differ. In the case of our "Analyze Twitter data" workflow, the triggering event will be a timer, as indicated by the first module (i.e. "source" module) in our workflow: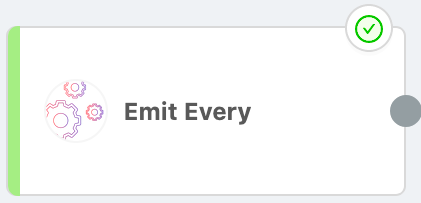 Once we deployed our workflow, this first module has been automatically instantiated and is now running on its own. Since this source module is built to emit events by itself on a regular basis, no further action is required from the user to trigger a workflow execution: meaning that our Twitter analysis will simply run "every X second/minute/hour…".
To get a reminder as how it was configured, let's click its module box in the Editor's canvas and navigate to the "Input" tab: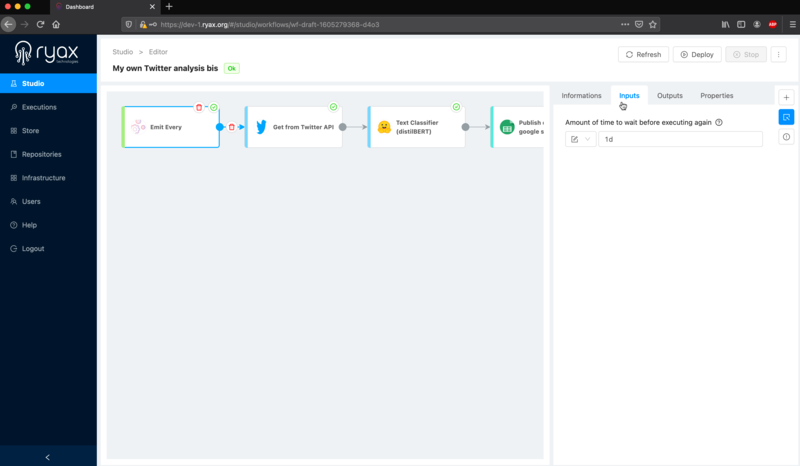 As indicated in the input box, our workflow will run once a day. If you wish to change this frequency, you can simply undeploy the workflow, modify the input value and deploy the workflow again. This can be done anytime.
Now to executions: when we deployed our workflow the source module triggered its first execution. Let's click the "View executions" button to check it out:

You'll be redirected to your workflow's execution list: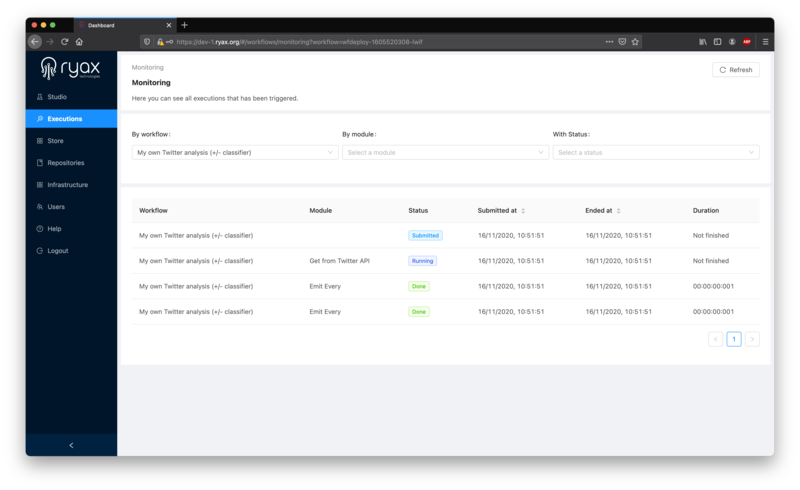 Depending on when you access this screen, there may still be some modules running in the "Submitted" or "Running" stage. This is normal as some steps will take a few minutes to complete: e.g. the Classifier module make take some time to upload and ingest hundreds of Tweets at once.
You can refresh the list to watch the execution propagate, after a few minutes all modules should have executed successfully ("Done" status), as the workflow ran from end to end: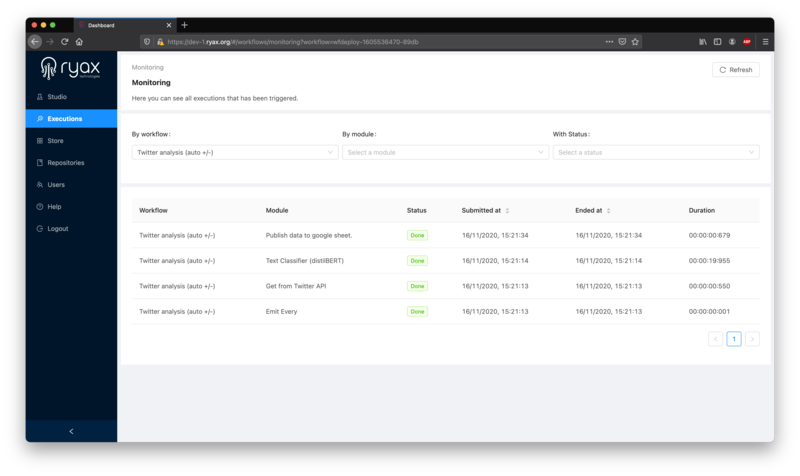 To access the final results of your workflow, click on any "Text classifier" execution. You'll view the classification results in the log window of the execution dashboard: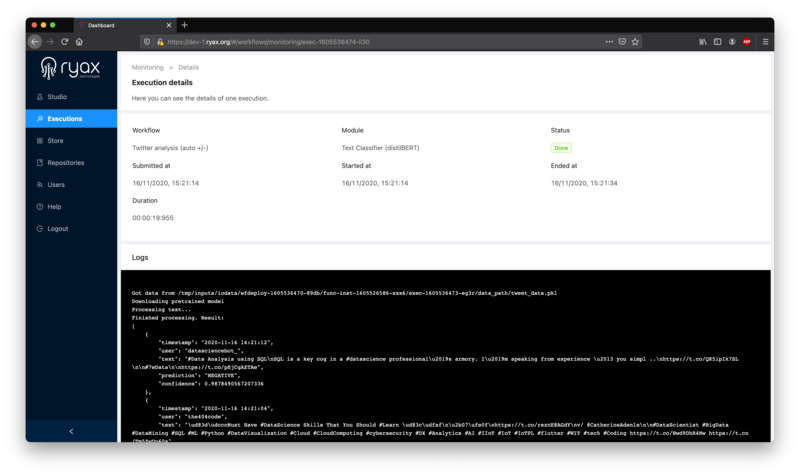 As you can see in this example (which will very probably be different from yours, since the workflow pulls actual Twitter data), the first Tweet was deemed as negative with a 98.78% confidence score, the third Tweet is judged rather positive with a 95.47% confidence index, etc: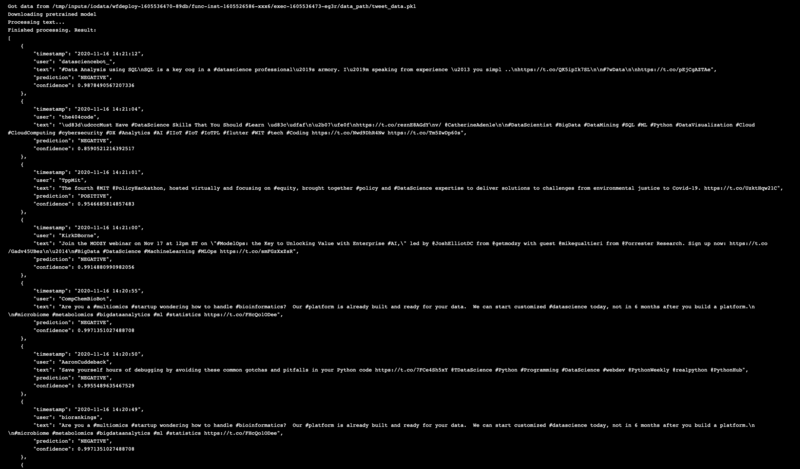 [Optional] Check executions in the Google Sheet¶
If you've set up the optional Google Sheet API publisher module, then you'll be able to access a more advanced result visualization of your workflow. Simply type the Google Sheet's URL you've created in your browser to watch the output data: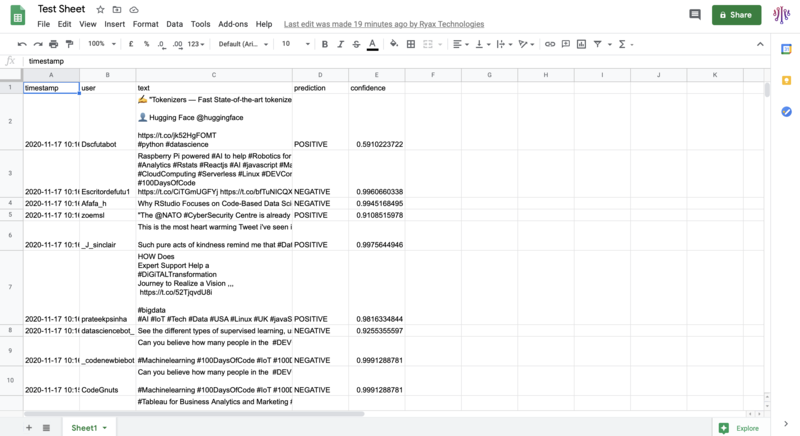 The sheet displays the Tweets' timestamp, author, content and the executed workflow results: algorithm interpretation (positive or negative), and confidence index (between 0 and 1).
Please note that any additional execution of the workflow will append its results below existing rows.